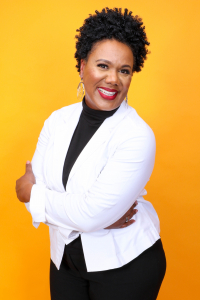 Submit Your Community/Church Announcements Here!
"Joy In The Morning" from 9AM to 1PM, with your host Crystal J will keep your Sunday mornings filled with inspiration, motivation and will help you enjoy a day of rest while preparing you for the work week!
Each Sunday morning, "Joy In The Morning" will deliver what you've come to expect from 92Q on Sunday morning. "Joy In The Morning" will feature amazing inspirational music, information from the local church and inspirational community, spiritual upliftment and encouragement as well as guest pastors, your favorite Gospel stars and more!
Take "Joy In The Morning" along for your Sunday morning church commute – or if you want to have church with us on the radio!
Follow "Joy In The Morning" on Facebook!
---
Meet Crystal Joy –
"My mission is to creatively teach, inspire and encourage empowerment."
"Witty", "Talented", "Sincere", "Multi-talented", "Compassionate" are just snapshot of how the many friends, colleagues and audiences describe the one of a kind Crystal Joy. Her resume is as unique as her soul – determined yet comical. Regardless of the circumstances, she is a fighter, not just for herself but all who come in contact with her. She makes application of her unusual attributes through her church, family, career and community by her ability to stand strong with or without a smile on her face knowing the hope that she can never deny in Christ. "It's the strangest thing, the more challenges, disappointments, and heartaches you have in life, the more you realize how true and able God is to fulfill every area of your life. He is definitely my all in all."
Crystal gives all the credit for her accomplishments to God. She knows beyond a shadow of a doubt that her gifts, talents, education and hands-on experience in an array of industries was orchestrated for her to utilize in glorifying God while serving His people. She conveys this through her passion for the arts and compassion for people.
Growing up in the Methodist church, she moved multiple times as a pastor's kid to numerous cities in the United States. Although uprooting a family year after year is challenging and stressful, she has seen it as an unique opportunity to grow in social skills and a simple revelation: EVERYONE wants to be loved, respected, valued and appreciated.
As an accomplished author, her recent book titled "Who ART in Heaven? Understanding and Incorporating the divine symmetry of arts and academics" is now available as ebook or paperback. For more information about Crystal, go to CJoyMinistries.com. For booking contact MoJo Marketing at www.mojomktg.com.
---
Joy In The Morning Blog –
Blogs - Joy in the Morning
Motivational Moment Who is the first person you think about in the morning?  Shouldn't it be someone who loves you more than you can love yourself?  Shouldn't it be someone who is always looking for ways to teach, train and transform you into who you are destined to be?  Absolutely!! There is no one in…… MORE
JOY JOT FOR YOUR JOURNEY "Here I am! I stand at the door and knock. If anyone hears my voice and opens the door, I will come in and eat with that person, and they with me." – Rev. 3:20 There is nothing like a good meal. I purchased a Mexican meal from a restaurant…… MORE
"I am woman, hear me roar! And I'm just too big to ignore!" – Helen Ready, Pop Artist I remember hearing that song and feeling like "FINALLY, someone recognizes my value as a young woman!" It only lasted a moment.  Yup!  Just a brief moment.  Deep in my soul I could hear myself, asking…… MORE