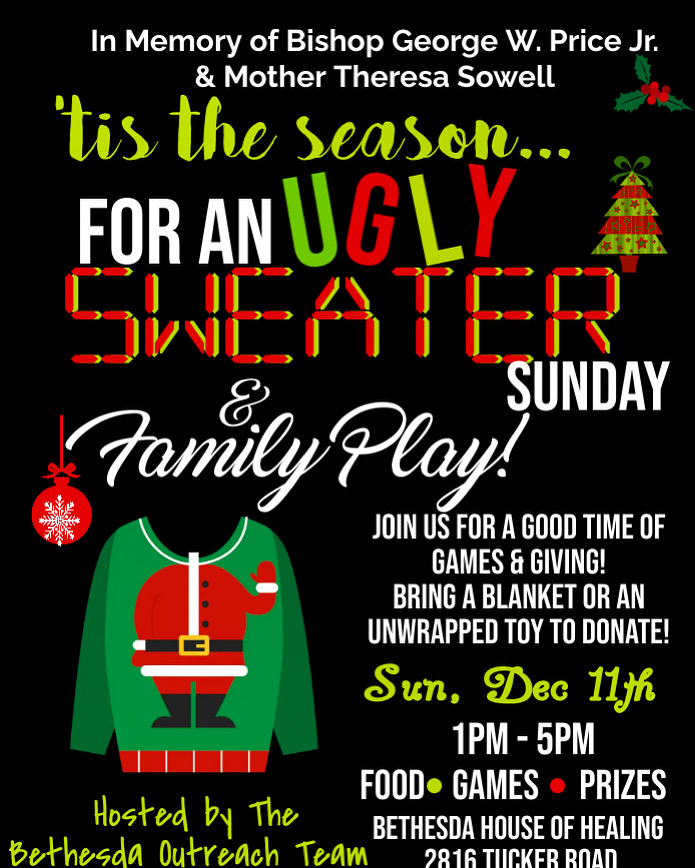 Bethesda House of Healing Outreach Team invites you to join us for our Ugly Sweater Sunday • Family Play Donation Drive
Sunday, December 11, 2022 1p-5p
Bethesda HOH | 2816 Tucker Rd, Nashville TN 37218
Dr. Derek Miller, Pastor
It is a FREE family community event- join us for Food, Music, Games, Prizes and more.
This Donation Drive is in Memory of Bishop George W. Price, Jr. and Mother Theresa Sowell for the community impact through giving they had on the Nashville community. We will be collecting blankets and unwrapped toys to donate. You don't want to miss this fun event!!!
FREE INDOOR/ OUTDOOR VENDOR SPACE AVAILABLE Interested in being a vendor- text "Ugly Sweater Sunday Family Play Vendor" to 615.618.7358 for more information.