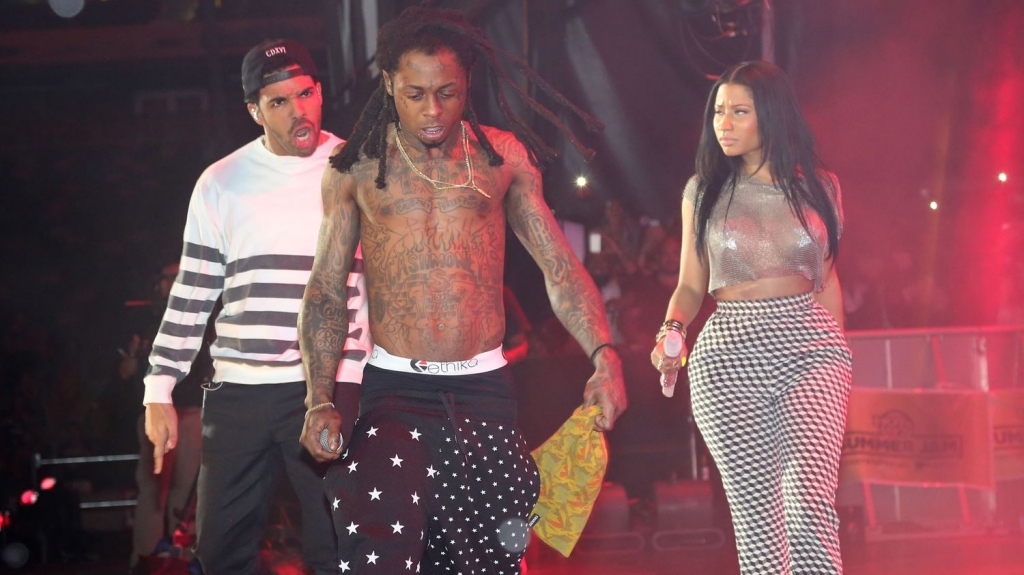 After Universal Music Group began settling debts with Birdman and Cash Money Records, Weezy had his lawyers sue the label for cutting checks to the wrong people. Wayne says Universal is using money that should go to him to instead recoup a $100 million advance given to Birdman's Cash Money years ago.
While the $40 million figure may seem high, Weezy points out that it's not just money he earned but also percentages he earned off deals that brought Drake, Nicki Minaj, and Tyga to the label. (The Hollywood Reporter)
Lil Wayne suing Universal Music group for 40 million in unpaid royalties.
The suit alleges that Universal instead has used those earnings to repay itself for a previous $100 million advance to Cash Money: "With Universal's knowledge of Lil Wayne's rights to partial ownership and profits from those artists, Universal and Cash Money entered into a series of agreements which, among other things, diverted Lil Wayne's substantial profits to repay debts of Cash Money," the suit claims. "As a result, 100% of the profits that should have been paid to Lil Wayne as a result of his ownership of Drake, Nicki Minaj and Tyga records have been seized by Universal to repay debts that were neither incurred by nor were the obligations of Lil Wayne."
Wayne's attorney, Howard E. King, echoed that in a statement. "Universal should be grateful and respectful to Lil Wayne for the millions of dollars in distribution fees and profits they have earned on the artists he brought to the company, instead of seizing all of his profits on those artists in a desperate attempt to recoup the tens of millions of dollars they are owed by Cash Money Records," he said.
Universal, though, denies any wrongdoing. (ADAM FLEISCHER, MTV)