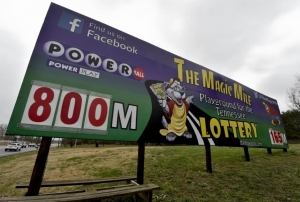 DES MOINES, Iowa (AP) — The latest on Saturday's Powerball drawing (all times local):
10:10 a.m.
The drawing will be held at 10:59 p.m. EST Saturday
Lottery officials say a winner would have the option of being paid $900 million through annual payments over 29 years or opting for a $558 million lump-sum cash payout.
Sales for the lottery game have skyrocketed since Wednesday, when no one won an estimated $500 million jackpot.
___
1 a.m.
With Powerball sales breaking records, the odds are growing that someone will win the $800 million jackpot.
But if no one matches all the numbers Saturday, the next drawing is expected to soar past $1 billion.
Officials with the Multi-State Lottery Association, which runs the Powerball game, expect about 65 percent of the possible number combinations to have been bought for Saturday night's drawing.
That percentage could rise if the jackpot estimate is increased before the drawing. But even lottery officials say they don't know what to expect.
Since Nov. 4, the Powerball jackpot has grown from its $40 million starting point as no one has won the jackpot.
Officials say that if no one wins on Saturday, the next jackpot will be $1.3 billion
[AP/news.yahoo.com]