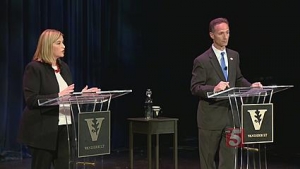 NASHVILLE, Tenn. – Megan Barry and David Fox, the final two candidates in the Nashville Mayoral Election,  faced off in a debate Monday night.
NewsChannel 5 teamed up with Vanderbilt University and the League of Women Voters for a mayoral debate featuring your questions.
Megan Barry started off her opening statements by saying that although Nashville has made a lot of progress there is still more to do.
"We have to continue to invest in our public education, get our transit right, make Nashville affordable and continue to be a warm and welcoming place, " said Barry.
David Fox spoke of his past 50 years in Nashville. He said he has always tried to make Nashville better than before. He said his Aunt Lois was the one who taught and inspired him to run for office.
"It's really in her memory and her honor that I think of trying to serve the city,run for mayor and I hope I can be of service to the city," said Fox.
The candidates were questioned about their support of charter schools in Nashville. David Fox answered first by saying he supports the growth of successful schools in Nashville.
"Let's keep them (charter schools) moving up but let's focus where 90 percent of the kids are which is in our traditional schools," said Fox.
Barry said public education is the single most important thing that a local government can do.
"When we talk about the urgency of making sure our children are able to attend schools regardless of their zip code in order to be successful, I think everyone agrees," Barry commented.
A major issue facing many Nashville residents is affordable housing especially for renters.